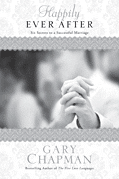 I recently read Happily Ever After by Gary Chapman. The book is by an author that I have enjoyed many titles from. I read this book looking forward to more good advice. I was not disappointed. I feel this book is a culmination of all his other great books. It had highlights from his other books along with more great new advice to benefit anyone no matter what season of marriage he or she is in.
The book is broken up into chapters that each deal with a different area of marriage and family. One can skip to the section that would be of most benefit at the time or can read the whole book to get oodles of good advice. I like how each chapter has a review of the concepts shared and also has action steps that one can start applying right away. I have taught marriage classes to a military ladies groups for the last 10 years and this will be a great book to teach in the near future because of how all inclusive it is in dealing with situations that all married couples face.
This book is a must for anyone. I think it would even be great to give as a wedding gift to a newly married couple. I will be purchasing a few copies to share. I have already purchased the audio version so I can share it with my hubby when we are riding in the car. The audio version has a pdf file with it that contains all the additional tools and resources that make the book so wonderful.
I was given a copy of this book to review by Tyndale.